"Every Baby Needs a Sling and Every Mom Deserves One"
This is Snuggy Baby's motto, and I couldn't agree more. I'm slightly addicted to baby carriers, and the Snuggy Baby ring sling is my favorite yet! They're so easy to use, exceptionally constructed, beautiful, comfortable, and just all around awesome. I couldn't be happier to have been given the opportunity to review one!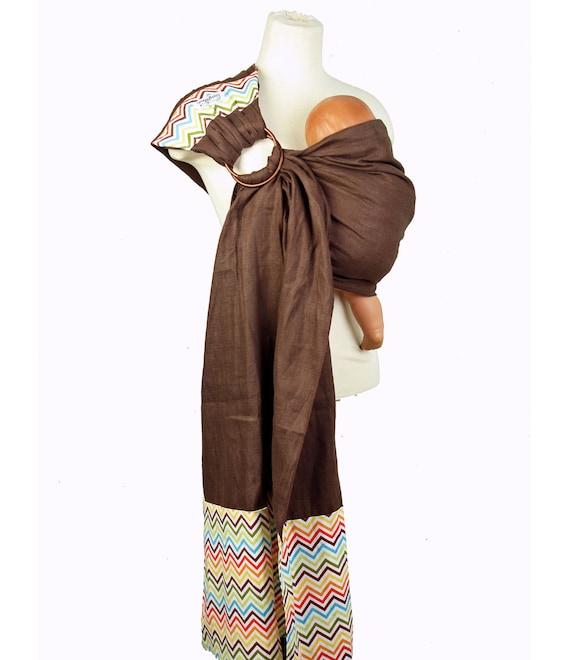 Snuggy Baby ring slings have many attractive features. They're made with 100% natural fibers, which help keep you and baby comfortable and cool while you're babywearing. They also have pleated shoulders to attractively provide support and evenly distribute baby's weight.
Snuggy Baby uses only aluminum rings specifically designed for babywearing. They contain no welds and are double stitched, as to be exceptionally strong. Because of the ring, every ring sling provides a completely custom fit. Multiple users of any body size can use the sling with comfort and ease to carry a baby of any size – from newborn to toddler. The Snuggy Baby ring sling comes with an instructional DVD to help you learn how to carry your child safely, but trust me – it's easy. Snuggy Baby just takes every measure to make sure your babywearing experience is successful, safe, and comfortable. What more could you ask for?
I find that I prefer to ring sling to my standard sized sling and my wrap for a variety of reasons. With both the wrap and standard sling, I often find myself needing an extra pair of hands to get my son situated just right. With the ring sling, I just loosely put it around my shoulder, pick up my son on my hip, and then tighten the sling around him. I've also successfully picked up the sling and put it on while already holding my son. It's that easy.
The lightweight linen material is extremely important to me. My son is a sweaty child, and we're outside a lot, so it's crucial that babywearing doesn't cause either of us to overheat. Also, the long tail of the sling is great for a handy nursing cover (again, one that doesn't cause him to overheat!) or as a sunshade or rain barrier. I've also used the sling as a blanket for him to take a nap on the grass. It's quite versatile!
The ring slings come in a variety of beautiful colors and patterns, so there's really something for everyone! They also have other products including stretchy wraps, doll slings, and wet bags.
Snuggy Baby has kindly offered all One Little Mister reader's 10% off on any product on the website. Just use the code "LittleMister10". Visit them at SnuggyBaby.com.
For more from Snuggy Baby, check out their facebook page or twitter.