"I don't care if they're poison. There's chocolate, peanut butter, and caramel in these…"
I am a hardcore "How I Met Your Mother" fan. I've been hooked since the first time I saw a preview for the pilot. And now, NINE seasons later, we have finally met the mother!! Although we still don't know her name, we do know that Lily met her first, and they bonded over a delicious, irresistible cookie, so good that Lily willingly accepted them from a stranger.
Obviously, being the nerdy fangirl that I am, I needed to replicate these cookies. I thought about coming up with something on my own, but I figured that was likely to be a disaster AND I was sure someone already had come up with a great one.
The next day, I found the recipe posted by People. The recipe looked like it was for thin, crisp cookies (which is what Lily and The Mother were eating) but I prefer a soft, chewy cookie. And by some miracle, I was able to alter the recipe to actually make a nice, chewy, soft cookie!!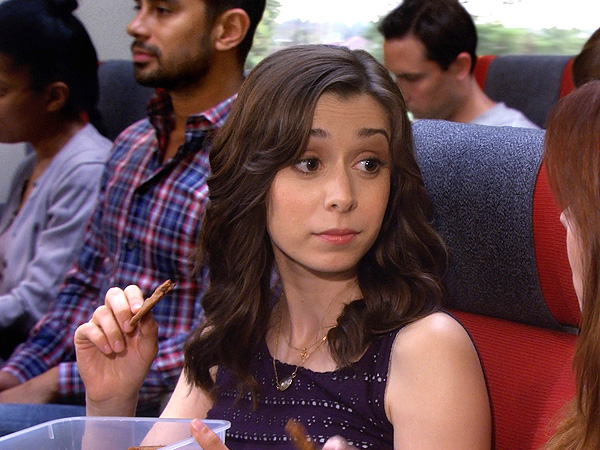 My "How I Met Your Mother" Peanut Butter, Chocolate, and Caramel Cookies
1 cup butter, softened (I did not have a cup of butter, so I did half butter, half coconut oil, and they're perfect. You could probably do all coconut oil or all butter and it'd be fine as well)
1 cup granulated sugar
1 cup firmly packed brown sugar
1 cup creamy peanut butter
2 large eggs
1 tsp. vanilla extract
2 1/2 cups all-purpose flour
1 tsp. baking powder
1 tsp. salt
36 mini Rolos
1. Beat butter/oil, granulated sugar, brown sugar, and peanut butter at medium speed with an electric mixer until smooth. Add eggs and vanilla, and beat until blended.
2. Stir together flour, baking powder, and salt in a small bowl. Add to butter mixture, beating until blended. Cover and chill 30 minutes.
3. Preheat oven to 350°F. Shape a 2 tbsp. dough around each Rolo, using lightly floured hands, and roll into balls. Place on ungreased or parchment paper-lined baking sheets.
4. Bake for 13 to 14 minutes or until lightly browned. Cool on baking sheets for 5 minutes, and then continue to cool on wire racks.
Get baking so you can bake these while you watch tomorrow night's episode!!
If you enjoyed this recipe post, please take a moment to stumble, repin on Pinterest or share below!