To kick off the Warm Your Home event a little earlier, I'm sharing with you one of my favorite new ways to decorate – vinyl decals!!
They make adorable children's wall decals and nursery wall decals in whimsical, fun designs specializing in extra large, mural style applications. Evgie employs professional illustrators and designers to work with your space, to create unique experience for you and your family. Their designs are customizable to help you create the perfect, coordinated room. They're made with high quality matte vinyl to give the appearance of being painted onto your wall.
Check out some of my favorites!!
The Monkey wall decals are perfect for jungle themed bedroom and are reminiscent of one of my favorite preschool songs about the five little monkeys swinging in a tree (teasing Mr. Alligator, can't catch me, no you can't catch me!) The whole visual is 100″wx90″h and comes in individual pieces for ease of application. The monkey's pacifier and stuffed animal can be blue for a boy's room or pink for a girl's.
The Dinosaur wall decals are perfect the aspiring young paleontologist in your home. I really love the idea of applying the decal over a corner of the room like this one, to really help it encompass the entire space. There are 15 different pieces in this set and the colors are meant to remind us of ancient books really create a prehistoric feel. Plus they're a simple, earthy color scheme that's very easy to coordinate with other room elements.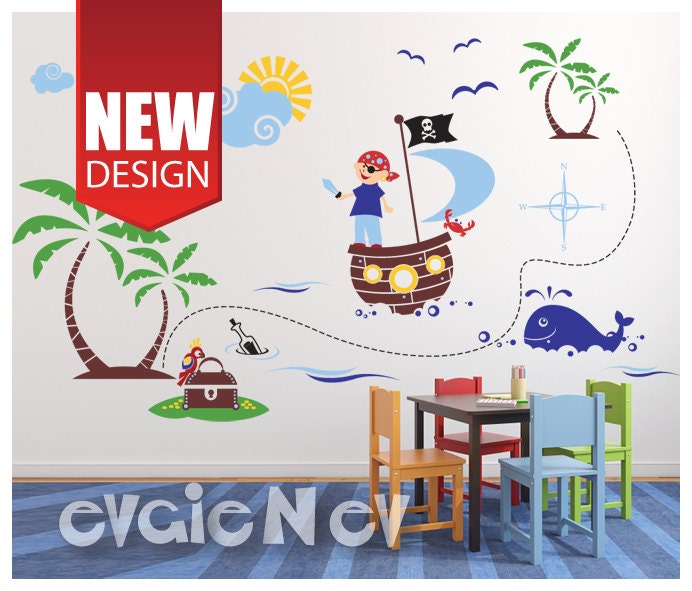 These pirate wall decals are a really cool choice for an adventurous little boy's room. This decal is available on their Etsy site (the gift certificate prize will be able to be used on either shop site) and it's one of their newer designs. Customizable colors make it easy to change your child's existing bedroom theme and update it to this fun new pirate theme!
The Fairy wall decals are a really sweet design for a little girl's room. What little girl doesn't love fairies?? This one is available in the standard  Violet/ G. blue/ L. green/ White/ L. pink/ Yellow color scheme, an alternative color scheme of Violet/ L. blue/ Green/ White/ Persimmon/ Yellow, or customized colors. I can just see a little girl naming these fairies after herself and her friends and acting out sweet little play stories under her magical little tree.
And for mom and dad, there's the Family Tree wall decal. I absolutely love the idea of posting family photos (preferably black and white, but that's just me) on the branches of this sprawling 156″w x 90″h tree.
As a little added fun, they also send three test decals (an elephant, a dog, and a monkey) to pass along to your friends so they can get addicted to vinyl wall decals as well!
Evgie has graciously offered to giveaway a $120 gift certificate to your choice of their two shops – Evgie.com or their Etsy shop.
You can also use the coupon code – OLM20 to receive 20% off of your order throughout the month of February!
Enter via the Rafflecopter below!
Disclaimer: Giveaway is open worldwide, however shipping is not included to countries other than US and Canada.